Centennial Property Division Attorney
Guidance Regarding Asset Division in Divorce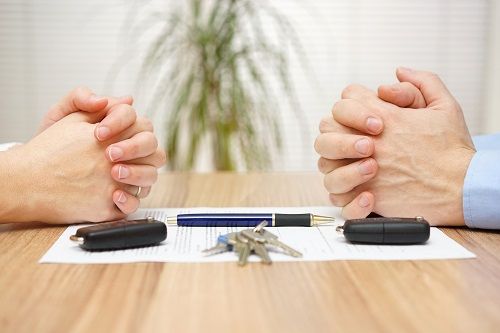 The division of property can be one of the most difficult and contentious aspects of a divorce. Particularly if you feel you have a lot to lose, it is important to have thorough and personalized legal guidance as you deal with issues related to asset division. At the Law Office of Alexandra White, PC, we will help you understand your rights and options.
We concentrate a significant part of our practice on high-asset divorce and family law, providing outstanding service, honest counsel, and a focus on practical solutions to complex problems.
Every divorce is different. In Colorado divorces, it is very common for the court to divide assets equally between the spouses. However, where there are sufficient assets, the court may divide assets disproportionately in lieu of a maintenance payment so as to sever the financial ties between the parties. In many cases, the division of assets and debts is settled outside of court. Parties who settle outside of court usually experience less stress and acrimony.
Call (303) 647-4245 today to request a free consultation with an experience property division attorney in Centennial. We also represent clients throughout Denver.
Is Colorado an Equitable Distribution State?
Yes, Colorado is an equitable distribution state. That means the court is compelled to distribute property in a matter that is "just and right," but not necessarily equal (as we mentioned before).
For example, let's say that you and your spouse share children, but you get sole custody of them. The court may award you the marital home and disregard your spouse's investment in that property to make caring for your children easier.
Property division is often the most contentious aspect of a divorce because it can impact other divorce-related processes, such as child custody, support, and alimony.
How Do Courts Handle Property Division Cases?
How your property division case proceeds largely depends on whether you choose to handle it in or out of court.
If you want to file for an uncontested divorce, you'll need to agree on how to divide property with your spouse outside of the courtroom. If you can reach an arrangement with your spouse that both parties are happy with, you set forth those terms for your property division in your divorce agreement.
Even if you want to file for a contested divorce, you can draft an agreement stating how you wish to distribute property, although it will be separate from the divorce agreement you'd use to finalize an uncontested divorce.
If you choose to rely on the court to handle the property division process, your case will look different.
During a divorce, spouses have a "fiduciary duty" to one another, meaning neither party can tamper with, destroy, or sell property during the divorce. Additionally, attempting to hide property can be penalized by the court with either criminal charges or a less favorable property division outcome (depending on how the offending spouse tries to hide assets).
You and your spouse will both need to provide the court with an exhaustive inventory of your finances and property. If you're worried your spouse is hiding assets in an attempt to garner a more favorable outcome, speak with your lawyer about your concerns. They can help you put forth a request for your spouse's property holdings or work with a third-party professional such as a forensic accountant to determine whether your spouse is hiding assets.
The court may issue a temporary order dictating how you'll share property during the divorce before holding the final trial and officially declaring the outcome of your property division dispute.
Courts consider the following factors during property division cases:
Each party's health and age;
The presence of other court orders such as child custody, alimony, or child support;
Each party's finances and employability;
Each party's role in the marriage;
How each party contributed financially to marital property (property acquired during the marriage);
Whether certain separate assets transformed into marital assets throughout the union (this is common with property such as houses purchased before the marriage that both parties shared or contributed to financially);
How a proposed property division arrangement would impact each spouse;
Any other factors the court considers relevant to the case.
Helping Clients Navigate Complicated Divorces
Divorce is difficult financially and emotionally. Your circumstances may seem incredibly complicated, and it can be daunting to think about losing or dividing assets you have worked hard to accumulate. Having an objective, empathetic ear can make a big difference. Having proper legal advice is critical.
Our attorneys can help you address important questions about:
Real estate assets, including your home, vacation property, and/or commercial property
Business assets, including professional practices and family businesses
Retirement assets and investments
Stock holdings and equities
Personal belongings
Assets that are inherited or owned prior to the marriage
Prenuptial agreements and property division
The connection between asset division and spousal support
What Are the Tax Implications?
The advantage of a disproportionate award for the recipient (in place of spousal maintenance) is that it is generally not taxable. On the flip side, the person who is receiving fewer assets in lieu of maintenance payments is losing the tax benefits of paying spousal maintenance.
The tax implications of property division should be contemplated before a divorce. When cases go to trial, courts don't always factor in the tax ramifications in your asset division. You and your lawyer should do so before making any important decisions.
Contact Us Today
It is important to understand your legal rights and your options for proceeding with marriage dissolution and asset division. Contact us to schedule a free consultation or in-office free consultation. You can also reach us at (303) 647-4245.
Meet Our Legal Team
Personalized Attention to Your Specific Case
Clients Share Their Stories
We're Here to Help You Every Step of the Way
Cindy

Krista and Laura Went Above and Beyond to Assure Us!

Tamara

Elissa Roberts is the highest quality of lawyer

Julie B.

Krista, Thank you so much for your help and getting me through this difficult situation.

Margaret A.

You and your staff have been outstanding!