Marital Agreement Lawyers in Centennial
Effective Legal Assistance for Prenuptial & Postnuptial Agreements in Denver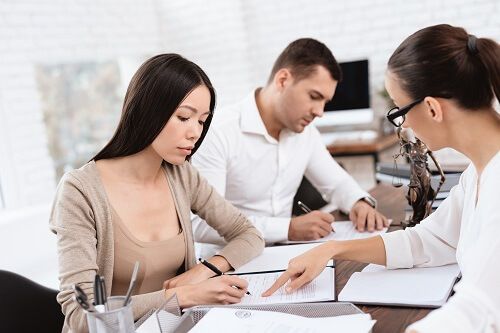 Marital agreements, whether created before or after a marriage takes place, are written contracts between spouses that outline how assets and other financial matters will be handled in the event of divorce or death. While that may not sound very romantic, these agreements can provide financial certainty for couples and even strengthen trust and emotional bonds in the face of the uncertainties that can arise should the marriage fail or end.
The Law Office of Alexandra White, PC can provide effective legal help in creating your prenuptial or postnuptial agreement. Our firm is well-versed in the legal requirements necessary to make your agreement enforceable. We can help you negotiate the terms of your contract and draft it into a legal document designed to stand up in court.
Schedule a free consultation with one of our Centennial marital agreement attorneys at (303) 647-4245.
Marital Agreements in Colorado
Marital agreements in Colorado must follow certain rules in order to be valid and enforceable.
These rules include:
The agreement must be in writing and signed by both parties
The agreement must be created without pressure or duress on either party
The parties have been given time and access to their own separate attorneys in order to thoroughly understand what is being agreed to
If a party does not access an attorney, he or she signs a Notice of Waiver, waiving the right
A fair, accurate, and complete disclosure of all assets, property, and debts is made by both parties
The agreement is not excessive or unreasonable nor does it violate public policy
Such agreements are especially beneficial to individuals bringing large or complicated assets or considerable debt into a marriage, including retirement accounts, businesses, and business interests, as well as those with children from previous marriages. These agreements can outline how such assets and debts will be assigned and distributed, can ensure that children from previous marriages retain specific inheritance rights, can specify the matter of spousal support, and specify other financial responsibilities and rights. Certain issues cannot be specified, such as child custody or child support matters, and should not be included.
What Can a Marital Agreement Contain (or Not Contain) in Denver?
You can use a marital agreement to determine:
What property is considered separate and marital during the marriage;
How you and your spouse will distribute property in the event of a divorce, including:

Which party gets custody of any pets;
Whether retirement funds are on the table for property division;
Whether certain items, such as a house or car originally bought under one name, will be eligible for division;

Whether one party will pay alimony over the allotted amount or timeframe to the other.
However, you cannot use a marital agreement to determine:
How the parties will share custody of any children they have with each other;
Which party is responsible for child support in the event of a divorce.
It's also important to note that courts have to consider a marital agreement fair to enforce it. If the terms of an agreement are "unconscionable," the judge may render it void, preventing either party from abiding by the terms of the agreement.
A marital agreement could be unenforceable if either party has experienced a substantial change in circumstances since signing it. For example, if one party loses a significant amount of money throughout their marriage, a marital agreement they signed when they were more financially stable may not be enforceable.
As such, if you have a marital agreement with your partner, it may be wise to examine the terms of that agreement every few years to ensure that it's still fair to both parties and would be enforced by a court of law.
Establishing a marital agreement could help make your union more equitable. Our Centennial marital agreement attorneys can help ensure your agreement meets your needs.
To discuss your prenuptial or postnuptial agreement, call the Law Office of Alexandra White, PC at (303) 647-4245.
Meet Our Legal Team
Personalized Attention to Your Specific Case
Clients Share Their Stories
We're Here to Help You Every Step of the Way
Cindy

Krista and Laura Went Above and Beyond to Assure Us!

Tamara

Elissa Roberts is the highest quality of lawyer

Julie B.

Krista, Thank you so much for your help and getting me through this difficult situation.

Margaret A.

You and your staff have been outstanding!